Our Products
Our Products are a result of over 20 years of development at GRSoftware. We have designed hundreds of applications at GRSoftware over the years and the products listed here are the ones we have packaged in a fashion for easy distribution. We have developed in many different programming languages and databases. Some of our highlighted products we have designed are listed below.
GRProject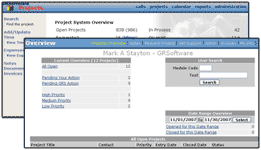 GRProject is a web-based project management system which allows you to track the progress of your internal and customer projects. It offers time and notes tracking, priority ranking of your projects, ability to attach documents to a project and a full blown customer interface that allows your customers to sign in and check the status of their projects. Security is built in to allow you to control what customers and/or other employees can and can not see. An interface from the time module to QuickBooks billing system is also available.
FACTSql
FACTSql is a FACTS to SQL interface.

It allows you to define the FACTS files you want available in a SQL database and will automatically update the SQL tables according to your setup schedule. Tables can be updated daily, hourly, or at any other desired intervals. FACTSql puts you in control of your reporting needs by giving you access to all of your FACTS data in a standard format.
UPS WorldShip Interface
The UPS interface allows you to fully integrate FACTS with your UPS WorldShip system.

It will send all of your order information to the WorldShip System and print a bar code on your pick ticket so you simply scan the document at point of shipment on the WorldShip system and all of the information comes up to process the package. The system also then captures the UPS data and updates your FACTS order with the Tracking Number, shipping costs and stores other WorldShip data for future reporting.
Direct Deposit Payroll Interfaces
We have interfaced the FACTS payroll module to several electronic payment services including "E-Checks" and "Fifth Third Direct Deposit". This module allows you to setup employees to have up to 2 different accounts for direct deposit and will send the required information to the payroll service you are using.
Electronic Payments Interface
Interface your FACTS payables to an electronic payment service to pay your vendors electronically. We have interfaced FACTS payables to multiple Electronic Payment Services.
Accounts Receivable Imports
We have interfaced FACTS AR Batch Entry with several electronic file formats to allow you to automatically enter vendor payments from an electronic file provided.
General Ledger Excel Interface
We have developed an interface to get your FACTS general ledger reports to Excel. The interface allows you to export the fields you want on your financial reports directly to Microsoft® Excel.
Custom Programming and Development
We have designed thousands of modifications covering all areas of the FACTS system for our customers. We have an unmatched knowledge of the FACTS product and can interface to any level with FACTS, ProvideX, and BBx. Our extensive knowledge of the application, language, and database give us an unlimited scope of what we can do for your system.
We have also developed many applications outside the FACTS arena. We offer full scale web development and design as well as programming for any custom application that you may require.